Creating a Workout Contract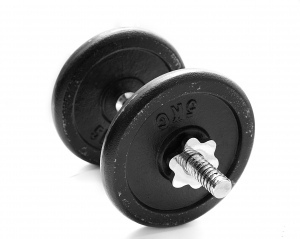 I hesitate to post this — simply because every time I talk about working out, I seem to fall off the bandwagon. This time, it's different.
I was reading a book and watching a couple of videos with Ramit Sethi and Tim Ferris when I realized that I really need to make working out a competition. Ramit set up a competition with some friends and talked a lot of smack. He was able to achieve his fitness goals that way.
When I was in High School, working out every day worked for me because I was competing with the other guys on the football team. Exercise had become a chore. It was laborious and no fun. I'd brainstormed "fun workouts," but they all came up short and I'd eventually quit doing it.
This time, I set up a contract with my wife. It has risks, rewards, and I'm constantly working to get better and do more.
To understand part of it, you need the backstory. I've been begging for a PSP for the past 4 years of our marriage, but I'm too cheap to buy one (hoping for a birthday present). I finally got one for our Anniversary and Christmas this year (PSP's are expensive). Now that I've got it, I love playing "GTA: Liberty City Stories" and "Medal of Honor: Heroes."
Matt's Workout Contract:
Risks:

I must work out 3 times per week or else I will have to give Rachel my PSP for the next week.

Rewards:

Every workout I complete, I get 2 points.
Every workout I miss (less than 3) is minus 4 points per workout.
Every workout over 3 per week is 3 points.
Every month I complete all weeks, I get 6 bonus points.

Redeeming Points:

6 points = Rachel has to wear a bikini for at least 1 hour (at home)
36 points = Weekend Getaway with Rachel
150 points = A cheap vacation deal (like a cruise) off dealnews.com (no affiliation)

More Details

Weeks start on Monday and end on Sunday.
I can do 2 workouts on Saturday, but they have to be spread apart – like one in the morning and one in the evening.
The first month (January 2011) is only 3 weeks because I started after the first week in January.
Rachel will keep track of the points
Right now, I'm just trying to keep from losing my PSP for a week, but in a couple months I could see myself going to the Texas State Railroad (a dream of mine) one weekend or really working for that cruise!
And I've completed 2 full weeks and I'm well on my way to completing the third week (and the first month at the end of this week)!
Related Posts: {.related_post_title}