Same Song, Different Verse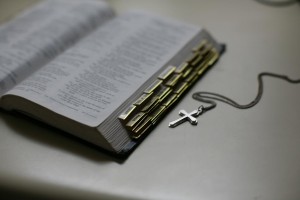 I think the Bible says the same thing in 50,000 different ways so different brains can get it.
If you like to boil it all down to 2 simple principles, look at the 2 greatest commandments — Love God & Love others.
If you're a preacher and have to have a 3 point sermon, look at Micah 6:8 — Do Justly, Love Mercy, Walk Humbly with your God.
If you're a lawyer – read Romans.
If you're a farmer – Jesus uses a lot of agrarian stories.
If you like love stories – Ruth, Esther, Song of Solomon.
If you like fight scenes & action movies – Joshua, Judges, 1&2 Samuel, 1&2 Kings.
If you like to see the underdog win – the whole Bible, Judges (see Gideon), Ezra, Nehemiah.
These are just a few examples, but the Bible has something for everyone so it can appeal to all types of people from all walks of life.
Related Posts: {.related_post_title}